A recent proposed rule by the FDA would mean big changes for food labels.
According to a statement from the FDA, the agency is proposing an update to the information that is presented on the Nutrition Facts label.
The new rule would require updating serving sizes; adding more information about "added sugars;" updated daily value for sodium, dietary fiber, potassium, and vitamin D; require manufacturers to declare the amount of potassium and vitamin D on the label; and "Calories from Fat" would be removed from the label.
The most notable change will be to the updated serving size requirements.  The FDA wants food label's serving sizes to reflect how people are actually eating and drinking today.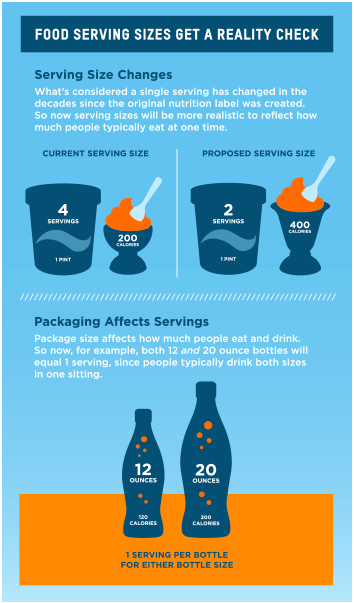 The FDA states that food that is typically consumed in one sitting or multiple sittings would be required to have a "double column" label to indicate "per serving" and "per package" nutrition information.
"For example, a 20-ounce bottle of soda, typically consumed in a single sitting, would be labeled as one serving rather than as more than one serving" the FDA states.
Additionally, larger food packages, that still may be consumed in one sitting or multiple sittings, would also require "dual column" labels. The FDA used 24-ounce sodas and a pint of ice cream as examples.
"This way, people would be able to easily understand how many calories and nutrients they are getting if they eat or drink the entire package at one time," the FDA states.
The new labels will also featured a "refreshed design."
Calorie and serving sizes will be more prominent. The daily percentage value will move to the left side of the label and the footnote will "more clearly explain the meaning of the Percent Daily Value."