Dispensa-Matic U-60 Label Dispenser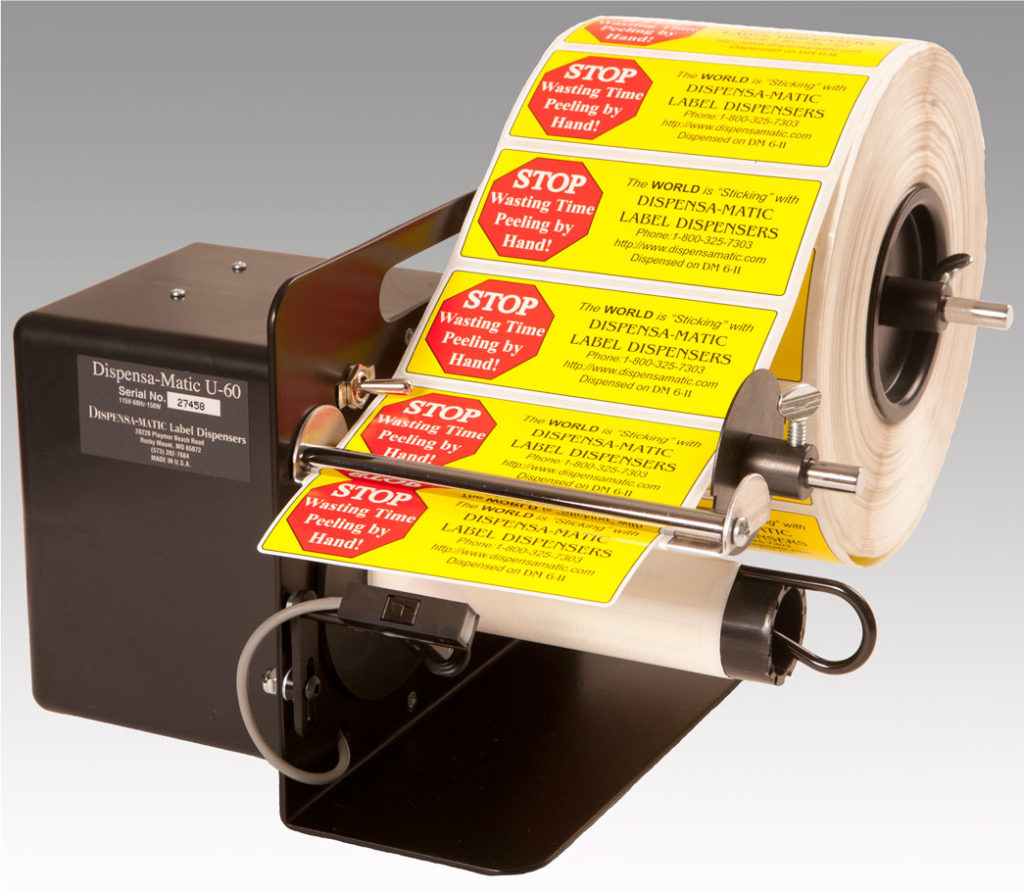 MADE IN USA | 3 Year Warranty!
Dispensa-Matic U-60 Label Dispenser: Is a heavy-duty semi-automatic electric label dispenser for labels from 3/8″-6″ widths x 3/8″ to any length. This label dispenser advances at over 7″ per second standard (Faster than so called High-Speed machines from competitors).
SATISFACTION GARANTEED. If we cannot make you happy within 21 days, send it back. *1.
Semi-Automatic dispenser, pick, apply, and repeat.
Butt cut, or die cut compatible!
Multiple row compatible.
Label boxes, envelopes, brochures, bottles, bags, cans, or anything that needs a label.
In house manufacturing, you know you will get support when you buy Dispensa-Matic.
We use very few outside sources for our machine components.
Side frames: made using the highest quality metals then formed, countersunk, de burred, and inspected one at a time at our facility.
Dispensing Tables: formed out of aircraft grade Aauminum. The peel edge is hand milled to spec within .001″ using a special hand-made cutting tool to get that perfect peeling edge needed to dispense labels without tearing the backing paper. (35 years of perfecting the peeling action)
Dispensing tables are POLISHED with ultra-fine polishing compound so paper flows freely around the plate. (We do NOT use cheap teflon tape that will peel off over time!)
The U-60 motor is a shaded pole AC motor, and is also made in the USA to our specifications. (No CHEAP 12v motors here!)
Dispensa-Matic U-60 uses Micro-Switch branded switches, made in USA to our specifications. This switch is specifically designed to detect all kinds of labels: Paper, Mylar, Foil, Holographic, and CLEAR! (If you prefer a photo cell please contact us!)
Dispensa-Matic U-60 is an original design from Dispensa-Matic! American made precision, quality, support, and longevity with over 35 years of experience from the same owner/designer!
International compatibility: We use motor specifically for Europe and all other 220V 50/60hz, (no cheap 12v DC motors here)
If repair is ever needed we offer a 1-Day turn-around
Dispensa-Matic U-60 is always In-Stock and ready to ship
Dimensions: 11″x13″x8″, Weight 13 Lbs.